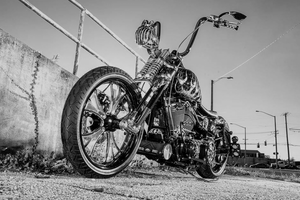 CUSTOM MOTORCYCLE HANDLEBARS
See more
WHY CHOOSE FORTRESS MOTORCYCLE
Superb Quality
We pride ourselves in providing the best possible quality, service and affordability to each and every product that leaves our shop floor.
From initial customer contact to design, manufacture and delivery, our quality is of the highest importance and we guarantee the best customer service and aftercare possible.
We use only the best machinery, tooling and design software, along with external partners for powder coating, lathing and milling, to create a range of original innovative custom designed products to make any customer proud to have purchased the Fortress brand.
Innovative Design
We know the importance of capturing that individual look and feel for your ride based on individual choice, and there is no better way to establish that than with a Harley Davidson Motorcycle.
Here at Fortress Motorcycle we take that idea to the next level by giving you, the customer the choice to refine and personalize your modifications based on your lifestyle and experiences.
From Old school to Modern, Standard to radical we commit our services to originality and innovation making your story a memorable part of the legendary Custom motorcycle culture.
Affordability
Modifications, enhancements and accessories are usually overpriced and more often than not, poorly made leaving you with a sense of wonder and disappointment.
With this factor in mind we decided to endeavour a high quality range of custom made handlebars at affordable prices making Fortress Motorcycle  a contemporary worldwide leader and provider of exclusive handlebars.
We established our business for this fundamental reason. Tell us what you want, email us your requirements, send us your design and we will make it.